The Avalon Inn at Plover Mills - Bed & Breakfast
click thumbnails at bottom to view larger pictures
New direction - just posted Sun Mar 23, 2008 - stays being offered at Avalon for those fighting cancer - also, volunteers needed for special programs
(web page/site under re-construction)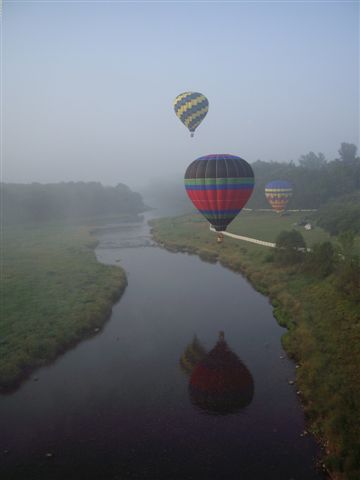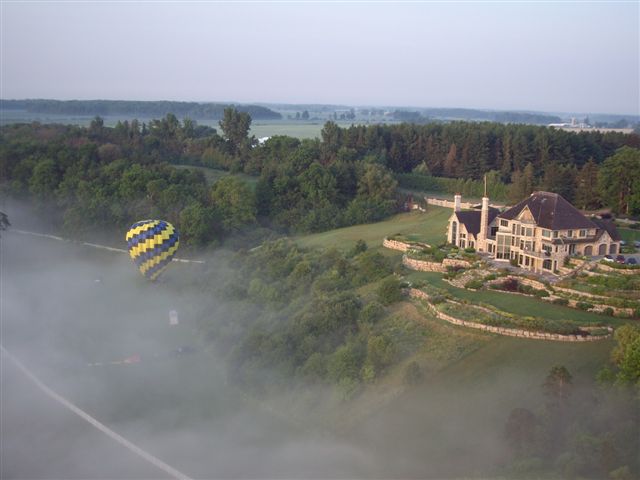 Rob has now moved away from offering traditional Bed & Breakfast & has opened Avalon up to a 3 day/2 night getaway/escape/respite for people (& those close to them) who have been diagnosed with cancer. 1-2 day workshops/sessions/visits are also being offered.
After operating a B&B here since June of last year, Avalon is now heading to a more specialized direction. Many thanks to all our guests over the last few months...we have enjoyed the interaction greatly. There are still a few guests that had received gift certificates & those will be refunded.
What most people don't know is that I (Rob) fought a 3 year battle (successfully) with cancer from 1999 - 2001 while this house was being built. At the time it was suggested that the project be stopped, but it was felt that I should something to look forward to, after the battle was (hopefully) won.
Purchasing this property & putting up this "mansion" was a direct result of following my dream & starting an alternative long distance phone company, London Telecom, when LD competition was allowed, by the CRTC. The company was started from scratch in 1988 & sold in 1999. Unfortunately, 3 weeks after the sale, I was diagnosed with NHL (Non-Hodgkins Lymphoma - cancer)....with 2 young sons at home, my first thought was "My God, I have to live....my 2 boys need me to live.....I must live"
I resolved on the spot to do everything possible to find a way to heal myself.....I would travel every corner of the world & spend every nickel I had, if necessary. I believed that someone, somewhere in this world had something that would give me life. The prospects for my condition at the time were not the best....there was a 50% mortality rate in the first year & by 5 years, 2/3rds of those diagnosed with the same condition as me would be gone....it definitely shook me to the core. With the doctors words, I found myself dealing with something that I could not possibly have been prepared for.
I did travel the world for a 3 year period, met many people, DRs & researched many modalities. The US, Europe, Mexico, Canada....what an education!
Here it is 9 years later - & I've never been in better physical/mental health.
As my way of "paying it forward", a limited number of guests who are battling cancer may stay here for up to 2 nights (Wed/Thurs) - 3 days (Wed/Thurs/Fri). There is no charge - except for food, meals & any special programs.
This stay is "custom made".....setup & made happen by myself & volunteers from our community.
Is there something that you've always wanted to do or experience, but until now, have never found the time?
Is there something you'd like do learn, but never had the opportunity?
Use the time you are going through your health challenge to do something special for yourself.....we can have a master chef come in & teach specialized cooking.....artisans can come here & teach you crafts, or get you started on drawing, painting, or perhaps singing or even acting.
What has your dream always been?
What would you like to learn?
Just say what it is & it will be arranged.
If you are the spouse or care giver to our special guest, then perhaps you have a creative idea.....is there someone who they've always wanted to meet?
Do you know of something that we could arrange that would be very special for our guest?
What have they always wanted to do & never found the time, previously?
This "getaway" is meant for those who are facing a life threatening diagnosis of cancer, to temporarily suspend everything else going on in their mind & have some real fun or do something incredibly interesting.....a memory that they will not forget.
(just to set the record straight, that "something" must be moral & legal)
If you would like to stay here, it will need to be OK'd by your physician & Rob
You must be well enough to be here & away from the hospital, for the time committed to....& have a positive frame of mind.
Rob will work with you or your spouse/care-giver to set up your customized stay.
Some volunteers have already contacted me to offer their services with respect to these special programs.....however if you also have time & a skill & would like to share that with someone going through the cancer journey on a volunteer basis, by all means, please let me know.
contact Rob by email to make an inquiry as a guest or to offer your time as a volunteer
519-461-1819 fax 519-461-9058
1-888-737-3362 cell
view Avalon's location/get driving directions - Google Maps link
Accommodation:
The Loft Suite Private double bed suite at the very pinnacle of the house with private satellite TV. Accompanied by a secondary level kitchenette with pull out sofa & walkout balcony facing east, overlooking the picturesque river valley and surrounding countryside. Private bathroom with shower and total seclusion from the other guest areas. A second private satellite TV. Workspace and internet service - DSL wireless.
The Riverview Room
This private bedroom offers a view of the sunrise over Thames River valley. Double bed, walk in closet, window seat, private satellite television, DSL wireless internet. Shares a 2 sink, single shower bathroom with the Front Room.
The Front Room This private bedroom on the west side overlooks the front grounds & entrance to Avalon. Double bed, walk in closet, window seat, private satellite television, DSL wireless internet. Shares a 2 sink, single shower bathroom with the Riverview Room.
The Secluded Room This private bedroom is located just next to the entertainment area in the lower level. Double bed, closet, satellite TV, DSL wireless internet. 3 piece bathroom located directly beside.
view more pictures, video & virtual tour
Amenities & other activities:
The beautiful flowing grounds surrounding Avalon are the perfect taste of country living city dwellers long for. Visit our nature pond, or have your morning coffee in the gazebo overlooking the estate. Walk over to the Plover Mills Farms greenhouse. (click to view pictures & videos from the greenhouse)
Watch our horses graze on the pasture. View & learn about (click to view books in Avalon's library) the varied wildlife, including deer, red fox, wild turkeys, coyote & the many species of birds, migrating along the Thames River flyway. Avalon is truly a bird-watcher's paradise. We actually have a rare Bald Eagle family nesting nearby. Osprey are viewed flying by & almost every evening, Blue Herons are regularly seen standing patiently in the river in front of Avalon waiting for dinner to swim by. Canada Geese are very common especially during the spring & fall migration. Arctic Tundra Swans fly through by the thousands twice yearly. Hawks in groups of 5 - 7 are common during the heat of the day, continuously circling on updrafts, watching every blade of grass below.
During the warmer weather, breakfast may also be served on one of our many balconies, decks or patios. Go for a swim in our year round indoor salt water pool. Relax at the spa in the hot tub or steam sauna. Enjoy a workout in our fully equipped workout room. Have a game of pool/billiards either on the main floor, or in the entertainment area. Watch a movie or enjoy satellite television in the Great Room on the large High Definition plasma widescreen TV, or in the entertainment area on the High Definition widescreen projection TV.
There are so many options available for enjoying these peaceful surroundings. Walk or bike (available at Avalon) the grounds and the trails along the scenic winding Thames River. Pause for a moment to photograph beautiful wild flowers, colourful dragonflies & iridescent hummingbirds.
Fishermen/women have been visiting the banks of the river regularly here, for as long as anyone can remember. (see pictures below) In summer evenings, guests walking the grounds & trails are entertained by the magical flashing lights of hundreds of fireflies.
Put the canoe in (available at Avalon) & spend an hour or two lazily paddling along, forgetting about all your cares....canoe all the way to Fanshawe Lake. Kayaks are available from nearby Riverview Campground, while water tubes are available at Avalon as well as the campground. How 'bout a relaxing evening bonfire by the river in front of Avalon? Enjoy a leisurely game of golf at the many nearby courses less than 15 minutes away, including Science Hill, St Marys, Fanshawe, Cobble Hills & Llyndinshire.
Less than 30 minutes away is Stratford, ON, home of the famous Stratford Theatre - world famous live performances.
Rob is the owner of the Brokeback Truck, a black 1950 GMC pickup made famous by the movie Brokeback Mountain which won several Academy Awards in 2006. Guests are welcome to hop in for a nostalgic ride. Rob helped find filming locations for the website www.FindingBrokeback.com & subsequently put a one time only tour on eBay, where the winners visited the Alberta movie locations, riding in the actual truck from the movie.
Rob is a
hot air balloon
pilot
who loves to fly from home
(click link to view pictures)...so who knows...you may be treated to an early morning flight as it leaves Avalon from the river flats off on another exciting adventure!!! Exceptional breakfast time entertainment for sure!!!
Wireless DSL internet is available throughout Avalon - faxes may be sent/received as well....and a kitchen laptop is always on the internet & fully accessible for email or browsing the web.
A kennel is available here at our farm, Plover Mills Farms, for guest's dogs who insist on coming along with their owners. For those guests with horses, trail-riding is available, along with extra stalls at the farm.
In consideration of those with allergies, Avalon is smoke & pet-free. For the quiet enjoyment of those staying at Avalon, guests are generally limited to those 14 years & older, special circumstances always considered. For food, meals & the special programs, VISA/MasterCard & Interac debit is accepted. There is no charge for the accommodation itself.
panoramic view from Avalon's kitchen deck - overlooking Thames River left to right
video clip showing same sweeping panorama
Fishing at Avalon/Plover Mills Farm & shore lunch - on opening day of bass season
view video clip of fish fry on the shore
Rob and B&B guests enjoying a 2 hour adventure on the Thames - leaving from Avalon
Rob & guests enjoying a trail ride & evening bonfire by the river, at Avalon
B&B guests hiking along the Thames Valley Trail, at Avalon

view pictures from the "Hunt" at Plover Mills Farm/Avalon
Horses & riders from the London Hunt Club are seen regularly at Avalon & Plover Mills Farm

The TV mini-series "MVP", at Avalon for the "Gallery Shoot" - Oct 2/3 - 2007
travel/tourism/things to do/see links:
"Daytripping" - FREE Travel Magazine - Southern Ontario Canada - Antiques, B&B's, Events, etc
"London Tourism", London, ON, Canada
"Stratford Tourism", Stratford, ON, Canada
"St Marys Tourism", St Marys, ON, Canada
read about Riverview Campground - a "Resort of Distinction"- just 3 minutes from Avalon - day use
to "Reading library at Avalon"